XO Mineral Make-up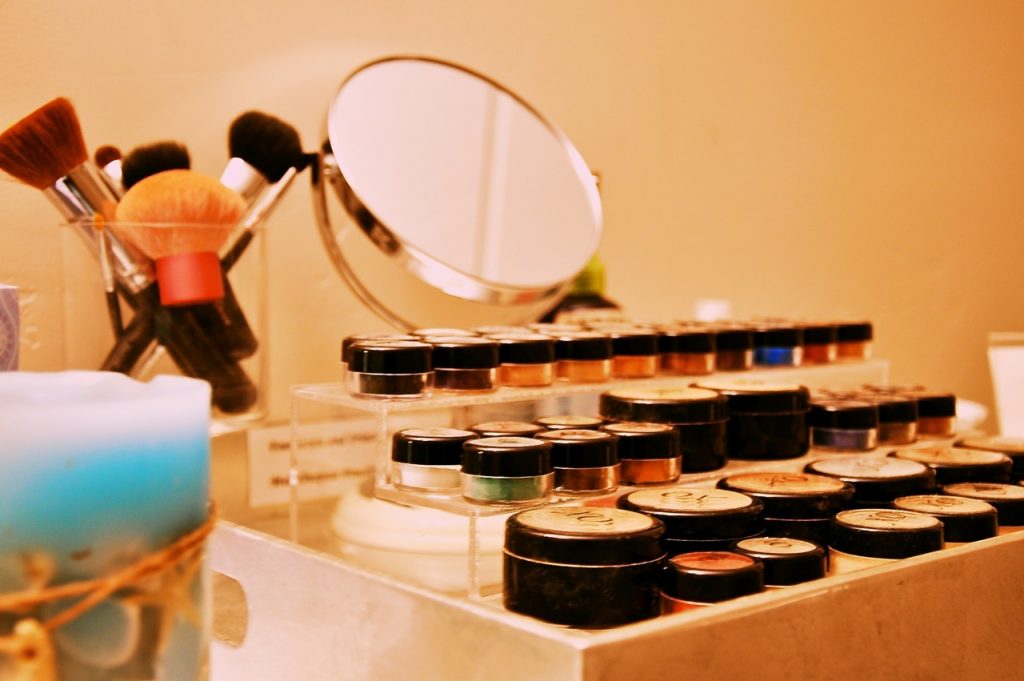 About Mineral Make-up
You may have seen mineral make-up advertised on TV or you've had a chance to try it yourself. It's the most natural form of foundation on the market today, primarily because it's loose. A traditional pressed or liquid foundation has to have esters (oils and waxes) added to the pigment, thus requiring the addition of water and preservatives. These are not necessarily the healthiest products to use on dry, sensitive, or acne-prone skin. Fortunately, the natural loose mineral powder will remain unspoiled for years without preservatives of any kind. The beauty of this loose foundation is the lack of oils, waxes, preservatives, fillers, synthetic pigments and dyes. It provides weightless coverage, helps calm inflammations, has a high SPF factor and is exceptionally water-resistant.
The texture of our loose mineral foundation is thicker and has much more pigment than most mineral make-up products you may have tried. Our formula contains only three ingredients (Mica, Iron Oxides, and Titanium Dioxide); we do not add Bismuth Oxychloride, which most companies use in ther formulas for added sheen and a silky texture. Although bismuth oxychloride is a natural mineral it has been known to make the skin feel itchy on individuals with sensitive skin and the thin coverage preventing the foundation from lasting all day.
Foundation Instructions For All Skin Types
Apply the translucent Primer/Veil with a brush over your moisturizer before you apply any foundation. This product will seal in moisture, create a smooth texture, and prevent the foundation from adhearing unevenly to moist spots on the skin surface. Select the foundation shade closest to your skin tone, and then add another dusting of a darker or lighter shade to adjust the color if necessary.
Use a flat or slightly chiseled powder prush, press a small ammount of podwer into the brush, tap the excess powder into the lid on the container or the paml of your hand, a little goes a long way. Firmly spread the powder on clean completely dry skin to evenly lend the minerals. Apply additional layers to areas requiring more coverage. Maximum coverage can be achieved best when layers are applied with a brush. It doesn't matter how dry or oily your skin type is, the minerals will actually look softer and more natural as your body temperature warms up and stay on your skin day and night, until you take it off with your favorite cleanser.
For blemishes and discolorations a seperate consealer is not needed. Use a shadow or camouflage brush to apply small ammounts to problem areas and blend well. For those with dry flaky skin, loose mineral foundation can be blended with your favorite moisturizer to create a cream foundation. First moisturize as usual, then tap a small ammount of powder into the palm of your hand. Add a drop of moisturizer. Blend the two products together until a smooth texture is achieved. Use your foundation brush to apply.Expirament with different types of moisturizers, sometimes this takes a little practice to get the right texture, if mixture is too much like a paste, add more misturizer or try a lighter lotion.
Using a liner brush, simply moisten the brush and dip it into your powder. Mix the powder and water together on the back of your hand or in a seperate container to create a creamy liquid liner. If you are using a very thin eyeliner brush, moisten a Q-tip and dip that into the powder to create a creamy texture. Brush along upper and/or lower lids, starting as close the the lashes as possible. It takes a little practice to adjust the consistency just right, but it's worth the effort for long wearing liner.
Using a chisel brush or angle blush brush, dip the brush into the color, tap off excess into cap and gently push excess color evenly into brush and apply with light pressure. Additional layers may be applied to adjust the depth of the color.
Dip a lip brush into your clear lip gloss and then into desired color. Apply the mix to your lips and blend well. A clear lip base or vitamin E stick can also be used first with the dry powder blended over it. Create your perfect color by blending over your lipliners and lipsticks or just add highlight color to the center of your lips.
Using a good quality clear nail polish, dip the brush into the desired color and polish onto nails. You can also mix the powders into your colored nail polish to create beautiful custom colors.
For body shimmer add powder to your body lotion or dust on with large powder dome brush. For a sheer bronzer use darker mineral foundation(add shimmer with gold or bronze multi-purpose powder if desired) and lightly dust onto shoulders, cheeks, neck, etc.
Using a shadow or camouflage brush, dip the tip of your brush into your powder, then, tap the brush on the side of your container, so excess falls back into it. This ensures that you do not use too much of the powder. Brush it on gently and blend evenly. For a more concentrated application use a sponge applicator.